The wire rack decking size is usually customized according to the specifications of pallet rack, and the mesh decks production styles are different with different requirements of load-bearing capacity. According to the weight of the pallet rack, different meshes, wire diameters and number of supports are selected.

According to the shelf overlay design, the bottom plate has three or four U-shaped shelves mesh special reinforcing bar welding, can also be a rectangular tube. The load-bearing capacity of each mesh fluctuates between 200 and 2000 KGS. The products conform to international environmental protection regulations.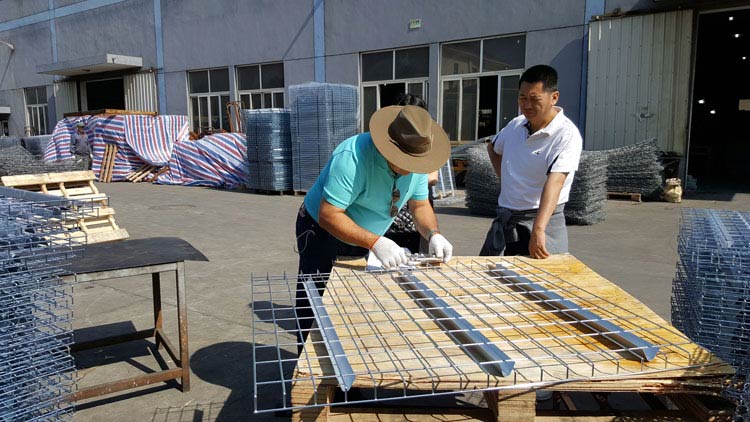 Features of wire mesh decking
1. Visualization is easy to manage, mesh laminates are firm, bearing capacity is strong, and bulk cargo is easy to clean storage.
2. Storage of cargo carrying 1-3T.
3. Mesh-type laminate design to prevent objects falling from the sky.
4. Strong wire is used for butt welding, the bottom is strengthened by U-shaped channel steel welding, and the structure is stronger.
5. With forklift truck, trolley, hydraulic pallet truck and other equipment, it can be applied to transportation, handling, loading and unloading, storage and other logistics links.
6. Comparing steel laminates with heavy shelves, it can save cost and place firmly.
7. Durable: 100% recycling with recycling benefits 8, lighter, stronger and cheaper than wooden pallets.
Specifications of wire mesh decking
Euro Sizes
Loading capacity 300kg
Loading capacity 800kg
Loading capacity 1000kg
Mesh 50×150 mm
Mesh 50×100 mm
Mesh 50×100 mm
Dim (D×W) (mm)
Dim (D×W) (mm)
Dim (D×W) (mm)
600×880
1000×880
1050×1090
1000×1340
1000×880
1050×880
800×880
1050×1340
1050×880
1100×880
1200×880
800×1340
1100×880
1000×1090
1200×1090
1200×1340


American Sizes
Standard U-channel

Flared channel

Dim (D×W) (mm)

Dim (D×W) (mm)

24"×46"

42"×46"

24"×46"

30"×46"

42"×52"

36"×46"

36"×34"

42"×58"

36"×52"

36"×46"

48"×34"

42"×46"

36"×52"

48"×46"

42"×52"

36"×58"

48"×52"

44"×46"

42"×34"

48"×58"

48"×46"
Packaging of wire mesh decking