Raw materials of flared channel galvanized welded wire mesh decks are sprayed and welded by high-quality cold-drawn wire. The mesh is 50*50.
The bottom of the mesh is strengthened with reinforcing bars. The two sides of the mesh deck are bent and placed on the shelf beams to stabilize the goods to ensure the safety of the goods.
Generally, the load can reach 3T, and the surface treatment is galvanized and sprayed.
Its load-bearing capacity is much stronger than stainless steel pallet, the force is evener. It is more durable and beautiful, and it is convenient for fire control.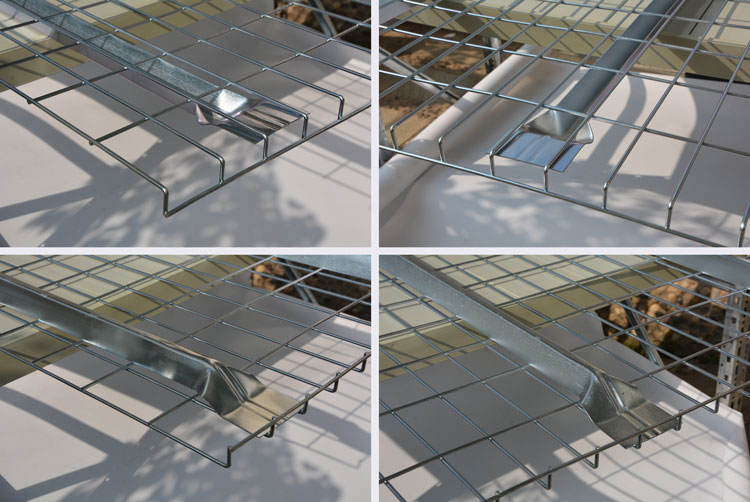 Galvanized welded wire mesh decking is a common product in warehousing nowadays. Its advantages are as follows:

1. Visualization is convenient for management.
2. The mesh-type laminates are firm and have a strong bearing capacity, which is convenient for the clean storage of bulk cargo.
3. Installation of mesh-type laminates can be used for storage of 1-3T cargo.
4. Mesh-type laminate installation does not require any tools, can be placed directly between the beams;
5. Manual storage, no need for pallet storage;
6. Mesh-type laminates are designed to prevent objects from falling from the sky;
7. Installation of mesh-type laminates can make the size of pallets diversified on the shelf;
8. It is made of strong wire by butt welding. The bottom is strengthened by U-shaped channel steel welding, and the structure is stronger;
9. Cooperate with heavy-duty shelves to save cost and place firmly.
Specifications of Wire Mesh Decking
Standard Wire Mesh Decking
Standard 50*100mm mesh aperture suits most carton and pallet storage applications.

Euro Sizes



American Sizes



Packaging of Wire Mesh Decking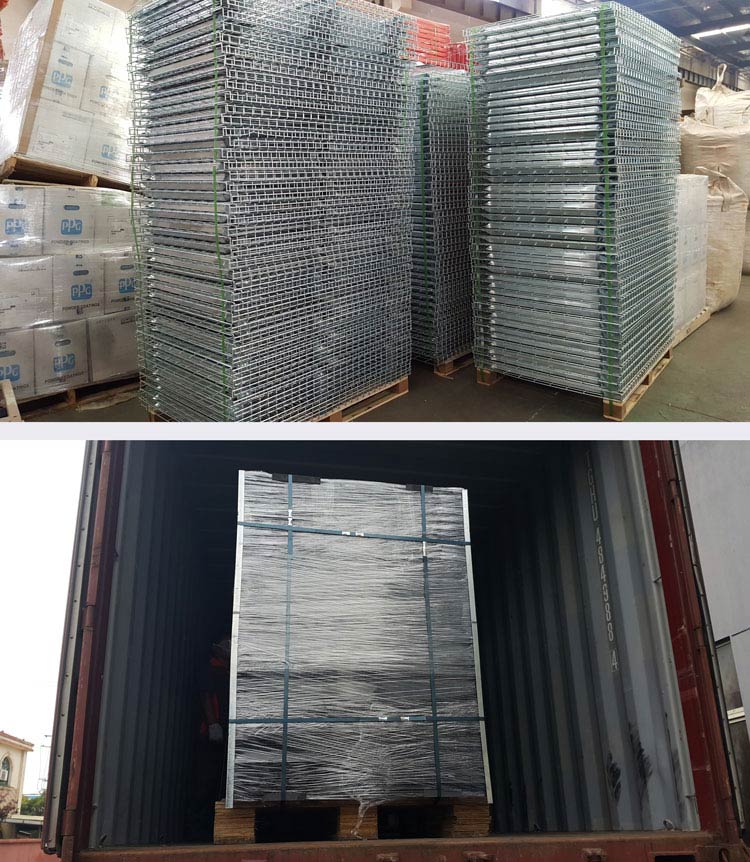 Heavy-duty warehouse pallet rack plays an important role in modern logistics activities.

The modernization of warehouse management is directly related to the types and functions of shelves.

At present, galvanized welded wire mesh decks are widely used in warehouse pallet racking system, and the effect is very good, which is widely praised by customers.