Wire mesh container, also known as metal wire containers, butterfly cages, clever cages, turnover cages, etc., is a standard logistics stainless steel mesh containers, which is mainly used for the wire basket storage solutions and mechanized turnover of heavier or large items. Collapsible storage containers with lids are especially suitable for the industry of automobiles, home appliances, mechanical hardware, etc. The stackable wire baskets for storage have been widely used in Europe, America, Japan, and Taiwan. Industrial stackable storage wire mesh container is designed and built for rugged, long service life, making them perfect for material handling. They come in a variety of sizes and capacities.
Flat clasp structure

Latch structure

Strengthening the connection strength of the foldable wire mesh container

Ensuring that the door can be opened when the containers are stacked so as to make it convenient to put in or tack out items

Limit wire structure

Square cup foot

Guaranteeing the stability during stacking

Special supporting leg structure for secure stacking

Optional designs & accessories

Dolly

Castors

Allows for easy movement of containers without the use of a forklift

A quick solution to mobilize containers without interfering stackability

Divider

Security lid

Front-to-back or left-to-right, for multiple products to be stored in one container

Secure for parts in storage or transit
Features of Wire Mesh Container:
1. It is made of high-quality steel, cold rolled and hardened, with high strength and large load carrying capacity.

2. Uniform specifications, fixed capacity, cargo storage at a glance, easy to store.

4. The surface is galvanized, beautiful and anti-oxidation, and has a long service life.

5. It adopts international standards and can be used with containers to effectively improve space utilization.

6. It can be stacked at 4 high to achieve three-dimensional storage.

7. Surface with environmental treatment, health immunization, turnover, storage, and recycling which do not pollute the environment.

8. Efficient operation can be carried out with equipment such as forklifts, ground cattle, elevators, and cranes.

9. The folding structure has low recycling cost and it is an alternative to wooden packaging crates.

10. Wheels can be installed at the bottom, making it easy to turn around inside the factory.


Specifications

of Wire Mesh Container
Model

NO.

Ext.

Dim.

Wire

Guage

Dim.

of

Grid

Loading

Capacity

Loaded

in

1x40GP

LxWxH

(mm)

mm

mm

kg

sets

W1

1030x840x850

6

50x50

1300

470

L1

1030x840x850

6

50x100

800

470

W2

1230x1040x890

6.2

50x50

1700

320

L2

1230x1040x900

6.2

50x100

1200

320

S1

1230x1040x950

6.2

50x50

1700

320

W3

1030x840x500

6

50x50

800

470

Material

Mild

steel

Q235

Optional

accessories

wheels,

forklift

guide,

runner

bar,

security

lid,

divider,

etc.

Application

area

warehouse,

logistic,

recycling,

PET

Preform,

agricultural

industry,

etc.

Finish

Zinc/hot

dip

galvanized/powder

coating

Remark

Customized

&

OEM

support
CAD of

Wire Mesh Container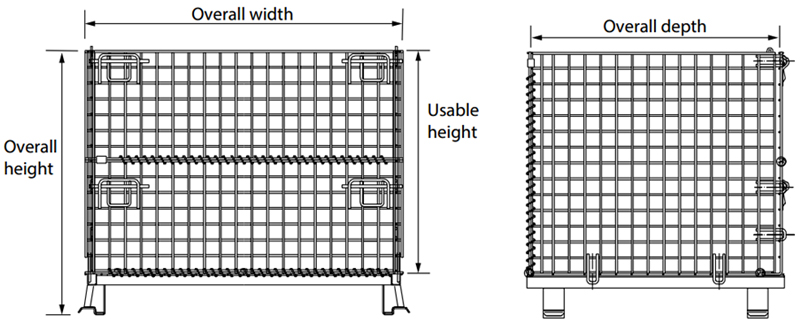 Applications of
Wire Mesh Container
Warehouse, logistic, recycling industry, temporary storage, transportation, sorting and storage of raw materials, semi-finished products and finished products.
Packaging

of Wire Mesh Container