Stacking racking, also known as a stacking utility shelf,is a kind of equipment used for unit assembly and storage of goods. It can stack 3 to 4 layers to form a three-dimensional shelf racking storage mode, and there is no need to resort equipment such as storage racks and shelves, wire container storage cages and material handling pallets.
It is suitable for use in rental warehouses, low-end old warehouses or workshop temporary storage areas, etc., which are not suitable for investment industrial storage shelves.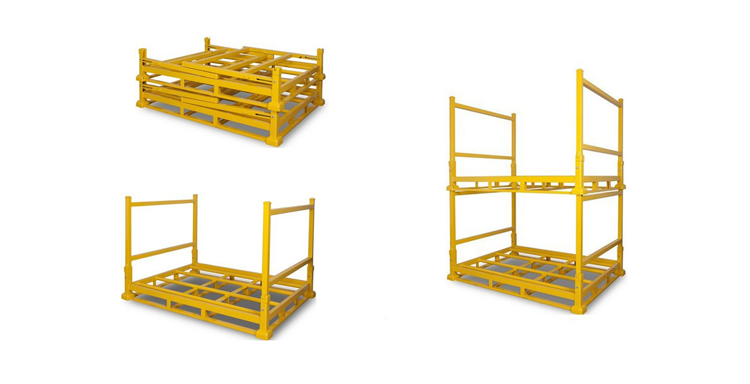 Structural Features of Stacking Rack
The metal stacking racks can stack heavy objects and store them in multiple layers. It can be arranged at will and easy to move. Save space by using a stacked storage design. In terms of load-bearing, the load on the two rails can be equally distributed to four columns.
The greater the load, the more stable it is. It can play an outstanding role in shaking such as earthquakes. The stacking racks warehouse is all processed by welding and is almost permanent in terms of durability.
The advantage of Stacking Rack
-Stacking heavy objects in high places and storing them in multiple layers;

-The steel stacking shelves can be stacked on each other to form a three-dimensional storage capacity;

-The stacking shelves can be used with the tray, and the stacker can be forked in four directions;

-The metal stacking shelves can be freely placed according to the site conditions and it is easy to move;

-Uniform specifications and fixed capacity;

-The goods are stored at a glance and the inventories stored in the warehouse are easy to be counted.

-Empty shelf rack can be inserted into each other (fixed) or disassembled (detachable) to save space;

-The stack rack can effectively protect the goods from damage during transportation. The safety of goods is guaranteed;

-Quantitative storage, distribution of goods can be carried out in a planned manner. Storage and transportation are convenient and fast;

-It can be used in a high stack to improve space utilization. It can stack up to 4 layers and has a bearing capacity of 3000kg. It is convenient and reliable. It can be folded to save space when not in use.

-A wide range of applications, which combined with mechanized handling equipment, can be used in transportation, handling, storage, and other aspects.
Photos of Stacking Rack