Generally speaking, wire decking for pallet racking refers to the shelf where goods are stored. In warehouse equipment, storage pallet racking refers to the storage equipment specially used for storing parts. Pallet racking welding wire mesh decks play a very important role in logistics storage and warehouse.
With the rapid development of modern industry, the volume of logistics storage has greatly increased. In order to realize the modern management of warehouse and improve the function of warehouse, it requires not only a large number of storage racking system, but also multi-function, and to achieve the requirements of mechanization and automation.

Pallet racking plays an important role in modern logistics activities. The modernization of warehouse management is directly related to the types and functions of shelves.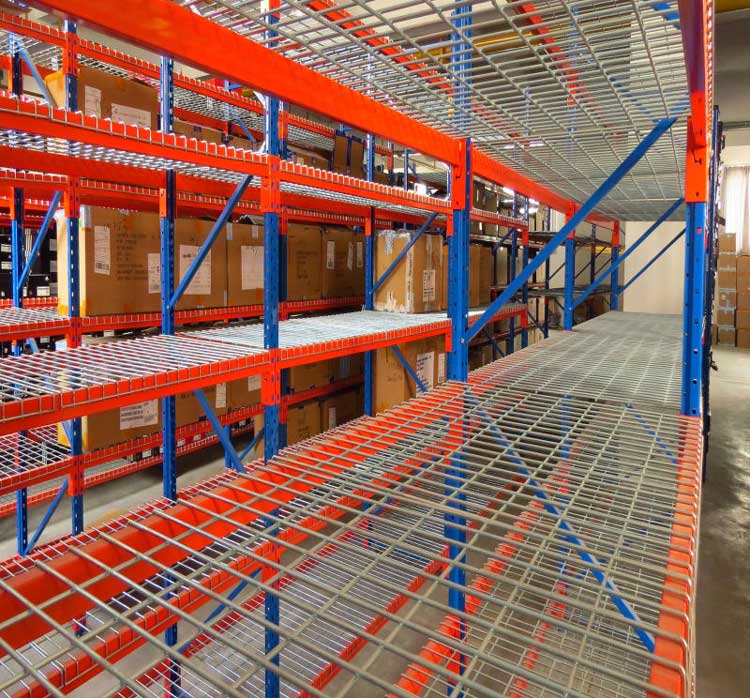 The functions of the warehouse wire decking are as follows:

(1) Metal mesh decking is a kind of shelf structure, which can make full use of warehouse space, improve the utilization ratio of storage capacity and expand the storage capacity of warehouse.

(2) The goods stored in the shelves are not extruded from each other and the material loss is small, which can completely guarantee the function of the material itself and reduce the loss of the goods.

(3) The goods in the shelf are easy to access, easy to count and measure, and can be first in first out.

(4) To ensure the quality of stored goods, measures such as moisture-proof, dust-proof, theft-proof and damage-proof can be taken to improve the storage quality of materials.

(5) The structure and functions of many new types of shelves are conducive to the mechanization and automation of warehouse management.

Pallet wire decking is a kind of metal grid used in supermarket shelves, which plays a very important role in our life.

The steel mesh decking uses Q235 high-speed wire as raw material, cold-drawn forming material, and then through bump welding to form a semi-finished mesh. After the mesh is made, the surface can be treated by galvanizing or spraying. After the surface treatment is finished, the mesh can be assembled and finally, the finished product can be produced. The dimensions of the wire mesh decking for pallet racking can be made according to the actual requirements of customers products.