A roll container is also called a logistic trolley or logistic cart, and the structure with casters makes it easy, flexible, and fast to transport the goods from warehouse to destination, which saves time, space, and the need for pallets. The casters we provide have PU tread and PP hubs, which have high flexibility and no drag marks.
Features of roll container:
Corrosion resistance with the galvanized or powder-coated surface.

Seamless welded tube constriction can be folded flat to save space.

Professional design for easy operation.

High loading capacity with sturdy frame structure.

Can be steam cleaned or pressure washed to keep hygienic.

2, 3, or 4 sides and security options are available.
Applications of roll container:
The roll containers are perfect for retail and warehouse use, and they are the best choice to maximize the use of space while transporting objects. The stable and sturdy caster structure ensures they can move on any surface of the ground. Therefore, they can be widely applied to logistics and turnover industries.
The roll containers can be manufactured in many various shapes and sizes, which can be used for small lines or for larger industrial items. As shown above, we can create trolleys around whatever specification, being a professional manufacturer, you name it we can make it.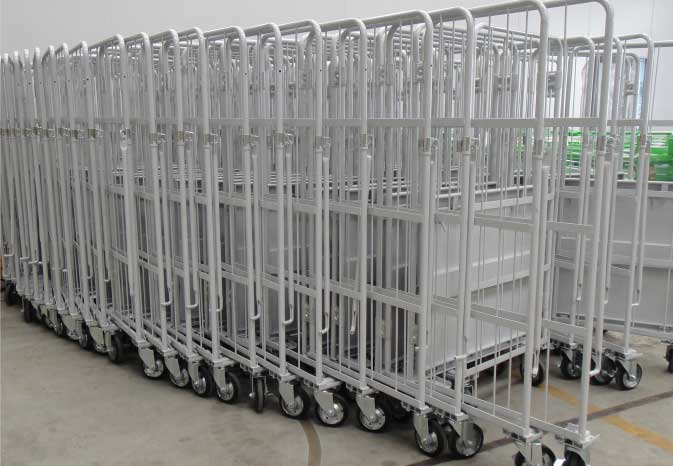 On any roll containers we produce you can add/adjust:
If you wish to be able to lift the roll containers using cranes then we recommend having lifting eyes. We can provide load testing to ensure weight requirements are adhered to.
We ensure that all castors used are load-rated to suit your requirements. We can supply various options including swivel, fixed, braked, and directional lock as well as numerous options for wheel and tire material.
Galvanized, electroplated, or painted to any standard RAL.
All of our products are available in any color you may require, be that a standard RAL, Panton, or mixed to your specifications. We also offer our products galvanized or zinc-coated.
With an experienced design team, we can ensure that all multiple orders or requests include 3D drawings using Solid Works software.