The collapsible wire container is also called a wire container storage cage, which is a very important kind of logistics wire container in storage and transportation, collapsible wire container has the advantages of free folding, free collection, and placement, fixed storage capacity, tidy stacking, storage at a glance, easy to inventory, etc., but also improve the effective utilization of storage space.
In addition, the product is durable, convenient for transportation, and can be reused, which can effectively reduce the labor consumption and packaging costs of warehousing enterprises. This product can not only be used in the factory production workshop but also can be used in supermarkets as display promotion and warehousing. Improved wire containers can be placed on racks, and production lines, and can also be stacked: Collapsible wire containers with casters can facilitate quick turnover in the workshop, and wire containers with PVC plates or iron plates can prevent small pieces from missing out.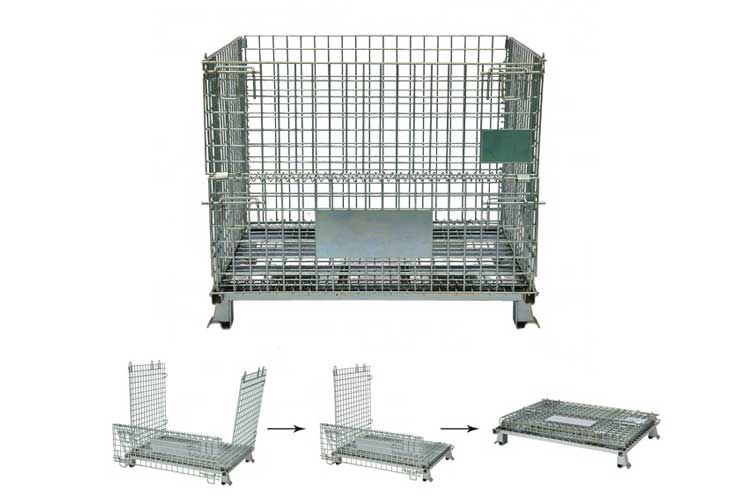 Features of collapsible wire container:
1. Uniform specifications, fixed capacity, storage of goods at a glance, easy to inventory.
2. Wire containers can be stacked in four layers, to achieve three-dimensional storage.
3. Galvanized surface, beautiful anti-oxidation, long service life.
4. Surface environmental protection treatment, health immunization, turnover, storage, and recycling are not polluting the environment.
5. A folding structure, with a low recycling cost, is an alternative to wooden packing boxes.
6. Casters can be installed at the bottom, and the turnover inside the factory is extremely convenient.
7. With forklifts, cattle, lifts, cranes, and other equipment can be efficient operation.
8. The use of high-quality steel by cold rolling hardening and welding, high strength, and large loading capacity.
9. The use of international standards, can be used with collapsible wire containers, effectively improving space utilization.