In order to meet our Australian client's needs, we design a new steel stillage that can be stackable on the ground and a racking system both. Basically, stillage cages are stackable cages for tires, wheels, components, etc, and can stack on ground or pallet racking system as a pallet. The client can transport products from one place to another or stack max 4 levels on the ground or stack one on beams levels.
The steel stillage feet can be a cup foot system or a skid base. The skid base is slightly more expensive, but the feet don't stick out beyond the stillage allowing maximum The stillage cage is economical, strong, and really functional to improve the space of your warehouse. The front and rear-hinged gates and an optional galvanized sheet metal can be used to create a cage base or floor.
The front panel can be fully removed, Not only do they feature a durable zinc construction, but they are also able to be disassembled quickly for transportation or storage requirements. This means the cage can save space when not in use and be transported efficiently to a new job or work site.
The stillage unit can be further moved by a forklift or pallet trolley and stacked high for even more storage abilities (stacked 6 high when empty and 4 high when loaded).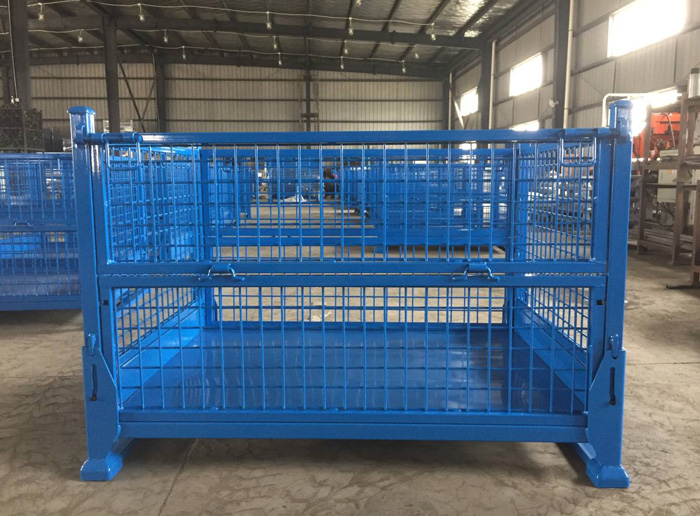 Features of Steel Stillage
Stillage can be stackable (6 high when cages are empty and 4high when fully loaded)
Maximum Load Capacity of 1000 kg (evenly distributed)
Zinc Plated Finish or powder-coating finish
Optional sheet metal floor available
Working Load Limit (max)– 1000 kg
Overall Dimensions – 1200 x 1160x 890mm
Working Load Limit (max)– 1000 kg
Overall Dimensions – 1180 x 1000 x 650mm
Welcome any customized requirements, we will offer you the optimized solution at the lowest cost. Please feel free to contact us by email: aceally4@aceallygroup.com